PIRANHA BYTES COMMUNITY TREFFEN KÖLN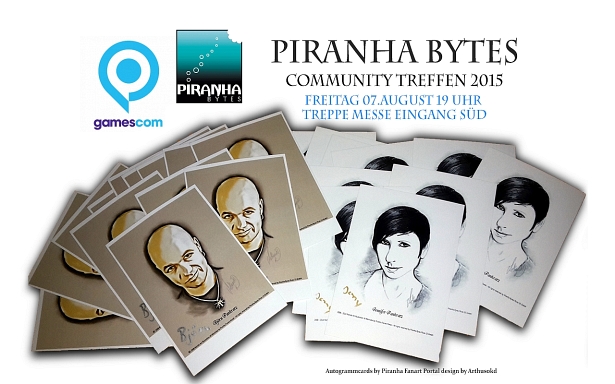 Ihr seit Piranha Bytes Fans, die Gothic aber auch die Risen Reihe zählt zu euren absoluten Lieblingsgames? Ihr wolltet immer schon mal eure Lieblingsentwickler persönlich treffen? Ihr ist eure Chance! Piranha Bytes lädt ein zu einem Treffen in lockerer Runde am Rande der Gamescom 2015. Treffpunkt ist Freitag der 07.08. 19.00 Uhr am Messeeingang Süd.
Selbstverständlich sind wir dabei und haben auch unsere berühmt berüchtigt gezeichneten Portraitcard mit dabei die ihr signiert bekommt. Also schaut vorbei. Anmelden kann man sich etwa auf der Piranha Bytes Facebookseite oder im Forum World of Risen oder World of Gothic.
Hier die Links:
World of Gothic
Anmeldung für das Treffen im Gothic Forum
World of Risen
Anmeldung für das Treffen im Risen Forum
Piranha Bytes Facebook
https://www.facebook.com/Piranha.Bytes